Pastor Nguyen Shares His Christmas Memory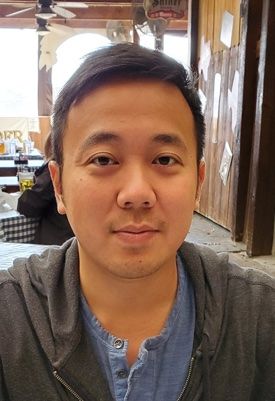 Andy Nguyen is the associate pastor at Faith Memorial Baptist Church in Houston, Texas. He shared his Christmas memory with True Christian Magazine.

"My fondest Christmas memory was when I was in my early twenties and getting to experience Christmas for the first time as a believer. The feeling can be described like a child's joy on Christmas morning or when you think you don't need glasses until you put on your first pair and realize how life should really be seen.

In my early twenties, I was at a youth event hosted by Houston's First Baptist Church when God intervened in my life. I don't remember much about the guest speaker or the preaching but do remember his prayer he prayed over us, "God, separate everything that separates us from you." At that moment I trembled and sobbed uncontrollably. I left that day with a new awareness that God was real, alive, and He is a jealous God. He was coming for me and intended to do what the pastor prayed...to "separate."

After that day, God turned my world upside down and shook it so that everything would fall out from underneath me. Having been raised in the church and made a youth leader, no one knew that deep down in my soul, I was an atheist and a god-hater. Afterall, I was sin-ridden, trying to find my place in the world, and wrestling with my own sexual identity. Taking college philosophy classes and walking by the fiery street preacher on campus saying that I was destined for the lake of fire didn't help me make sense of the world.

Leading up to the winter months that year, the consequences of my sins had finally run their destructive course and my double life had been exposed. It destroyed my friendships, ended my relationship with others, and alienated me from the community that I once had. Out of shame and anger, I left the church of my childhood and where my family attended. The only friend I had, a true Christian brother, tried to love me through these times but I pushed him away. Another pastor that I knew from another church wanted to help me, but I rejected him too. I wanted to crawl under a rock and die because I started to feel the conviction of my sins and what seemed like an angry God on my tail.

I wondered how this God of love that Christians preached about would allow all these bad things to happen to me. I felt like I lost everything that mattered most to me. In trying to reconcile my identity in Christ and my identity that I inherited from the world, I finally opened the book the pastor that I had rejected had given to me. It was called "The Purpose of Christmas" by Rick Warren.

As I started to read, it all came together and started to make sense. When I got to the chapter about reconciliation my perspectives started to change. I started to understand how my sins separated me from the Holy God and made me His enemy. But that didn't stop God from making a way to draw me closer to Him through His son, Jesus. I started to understand my need for a savior. I also began to understand my need to be reconciled to the Father. I then started to understand that who I thought I was wasn't how God had made me. The revelation of Jesus in my life didn't necessarily make my Christian walk easier, but His goodness truly led me to repentance.

As it got closer to Christmas, the truth of God's desire to reconcile me to Himself was displayed through the restoration of my relationships. God started restoring the things that I had lost and made them new, like my friendship with the only Christian friend I had. I had pushed him away because I wanted him to affirm my life of sin, but he wouldn't. I am so thankful that he stood by the truth of God's word and never wavered. We spent the next couple of years serving and worshipping together at a different church in Houston until he moved away. He was the best man at my wedding, my brother in Christ, and fellow laborer in the Lord even to this day.

God gave me other opportunities to reconcile more of my broken relationships with old friends at my former church. I learned God was a peacemaker and got to see Him at work as He mended broken hearts and broken relationships. One of the biggest antagonists from the church that I left appeared one day at the new church I was attending. We both wronged each other in the past and when I saw him, it brought back a lot of old painful memories for me that I was not ready to deal with.

The new church members didn't know me or know anything about my sins I committed in the past. It was a fresh start for me and in my new life in Christ. I was about to leave out the back when God told me to go talk to him. I was so ready to let him have it and blame him for all the hurt he caused me. I reluctantly walked up to him and the only words I could say while sobbing was, "I'm sorry for what I did to you." God had brought us together and I knew He wanted to heal our broken relationship. He apologized to me too and then we prayed for each other before we left. We are finally at peace.

Having left the church I went to when I was young, my best friend and I went out to find a new church home. We had visited a couple of different churches but did not settle in any. The pastor who tried to help me in the past, the one who gave me the book, "The Purpose of Christmas" welcomed me with open arms into his church home. He and his family shared the love of Christ with me and never asked about what I did or cared about it. He discipled me and cared for my spiritual needs for the next decade and even to this day I can still count on his wisdom and guidance.

God accomplished what was prayed for that day at the youth event which was to separate me from the world. He pruned what needed to be pruned in me. As Christmas approached that year, my eyes were opened to the glorious reality and unending beauty of my savior, Jesus. He came that we could have peace with God. Jesus is the greatest gift that I ever received, and one I did not deserve. Yet, while I was a sinner, Christ died for me. God restored all the broken relationships in my life, brought peace where there was conflict, and gave me a new church family to share my life with.

Christmas means so much more to me now that God placed the right perspectives in my life and helps me to stay focused on Christ. Gatherings, gift giving, and being at peace with others means so much more. All the activities we do to celebrate Christmas echoes in the steadfast and gracious love of God, who does not withhold anything from us. My first Christmas as a child of God is a memory and testimony that is near and dear to my heart."
---
---